Upcoming Events:
October 1, 2020 —

Field trip up to the High Flats transmitter site at 4-corners.

This is where all of the TV and radio stations had to move when Green Mountain was torn down this last summer. Meet at my shop at 45 Contractor Drive near 4 corners at 6:30. We can car pool, or individuals that would rather drive by themselves can take their own vehicles to the High Flats site. The tour will take about 1 1/2 hours. After the tour we will adjourn. Neil KL7JGS
Please check your emails to see when the next face to face meeting at the SAR Building will be permitted. The dates when members may meet face to face at a club meeting will be reviewed based on the government recommendations in relation to the coronavirus pandemic.
The next scheduled exam will be December 5, 2020. Click the link above for more up to date information.
The Gallatin Ham Radio Club, W7ED, is a welcoming club! Please join us and join in the fun of amateur radio and public service!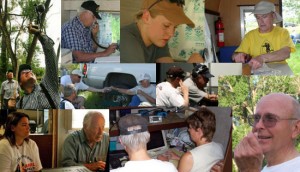 Whether in a national emergency or in response to local search & rescue and fire emergencies, ham radio operators right here in Gallatin County are part of your emergency communications network. Join us in service to your community!